The World Players of Handball Foundation Junior Sponsored Programs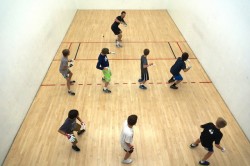 Junior WPH proudly sponsors eight junior handball teams and programs across North America, providing funding, equipment and resources to enable young people to develop passion for handball and to have the ability to learn handball under the guidance of Certified WPH Coaches. All of the Junior WPH sponsored teams emphasize sportsmanship, camaraderie, integrity, discipline, leadership and a physically active and healthy lifestyle through handball. Sponsoring Junior WPH Teams are part of a World Players of Handball initiative that organizes more than 750 junior handball clinics per year for more than 2000 new and experienced junior handball players.
Junior WPH Sponsored Programs
Junior WPH Tucson: Junior WPH hosts weekly clinics at Tucson throughout the year, introducing the game to numerous junior players and establishing a group of consistent players that have developed a passion for the sport. JR WPH Tucson junior handball players learn from enthusiastic WPH Certified Coaches each week, developing the proper fundamentals and character to enjoy handball for a lifetime. Tucson boasts a long history of top players, outstanding junior handball programs and handball ambassadors and Junior WPH Tucson aims to follow in those footsteps. The Tucson Conquistadores graciously provided a grant for handball equipment and court time during the Tucson fall sessions at the Lohse YMCA. Thank you!
Junior WPH Making Huge Strides in Tucson: here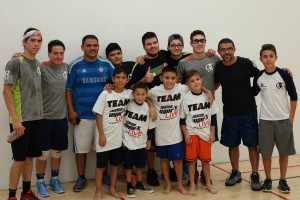 Junior WPH Juarez: Junior WPH proudly partners with the handball-crazed city of Juarez, MX. Juarez possesses one of the strongest handball communities in North America, producing WPH R48 top 12 pros Luis and Daniel Cordova, as well as a number of other high level players. The Juarez handball community and WPH Certified Coach Richie "Drft" Fernandez are determined to continue to grow the game in Juarez, hosting weekly junior handball clinics and providing opportunities for juniors to travel to tournaments. "Drft brings an incredible energy and enthusiasm for handball and the kids love him," stated WPH Youth Donor and Development Director David Fink. "In his first week of clinics, Drft recruited more than 20 kids between the ages of 6-16. Junior WPH helped to fund Team WPH Juarez trips to Tucson for the Battle of the Border I and II, provided equipment for Team WPH Juarez weekly clinics and hosted numerous junior handball clinics for the members of Team WPH Juarez in 2015.
Junior WPH Juarez at the 50th Juarez Handball Tournament Presented by the WPH: here
Junior WPH Juarez at the Battle of the Border II: here
Junior WPH Juarez Junior Round Robin Tournament in Juarez: here
Junior WPH Juarez at the Battle of the Border I: here
Junior WPH Team Juarez Debuts: here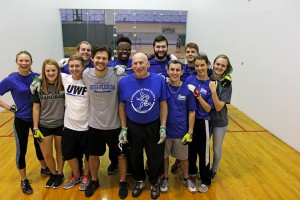 University of West Florida Argonauts: The World Players of Handball is thrilled to have partnered with UWF Handball Club Founder Michael Morgan and the University of West Florida's handball team in Pensacola, Fl. "Mike Morgan is one of handball's greatest promoters and ambassadors and we proudly support his UWF handball team," declared WPH Youth Donor and Development Director David Fink. "Coach Morgan has probably introduced and retained more handball players in the past five years than anyone in the world. Junior WPH is proud to provide handball equipment and clinics each semester to the Junior WPH UWF Argonauts.
Junior WPH UWF Argonauts Classic: here
Junior WPH UWF Recruiting Dozens of New Players for the Fall Semester: here
Junior WPH UWF Clinic with Luis and Daniel Cordova: here
2015 WPH UWF Fall/Winter Update: here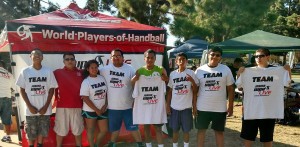 Marco's Kids: WPH Coach Marco Coromac has built one of the largest and strongest junior handball programs in the country and the World Players of Handball is honored to support Marco's Kids in their efforts to learn important life lessons and values through handball in Southern California. "Coach Marco is an incredible influence on his junior handball players and precisely what we hope for in all of our coaches," stated WPH Youth Donor and Development Director David Fink. "The WPH has held a number of clinics with "Marcos's Kids" and all of the youngsters are always respectful, appreciative and passionate about playing the game the right way. The WPH is thrilled to be able to provide junior handball equipment, opportunities to travel to tournaments and clinics to "Marco's Kids." Thank you Coach Marco."
Junior WPH Marco's Kids at the Fresno Open: here
Junior WPH Marco's Kids at the California State 3-Wall Doubles Championships: here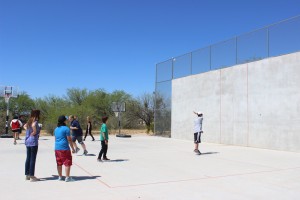 Tucson's Khalsa School: Junior WPH heads the handball instruction at Khalsa School's P.E. classes in Tucson, AZ for the 6th, 7th and 8th graders at one of Southwest Arizona's most highly rated charter schools. Each of the middle school students plays handball during the fall and spring semesters on one of the country's premiere 1-Wall court facilities at Khalsa School. "We are very fortunate to have the kids learning handball from one of the world's best instructors," stated Khalsa School P.E. Teacher Kevin Nichols. "The kids are really taking to it and it's a great opportunity for them to learn new skills and have fun doing it."
2015 Fall/Winter Junior WPH P.E. Classes at Khalsa School: here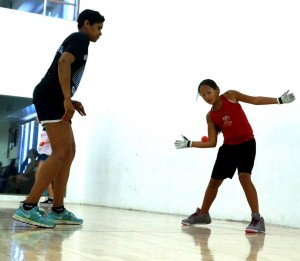 Tucson Racquet Club Junior WPH Handball Summer Camp: Junior WPH has headed the junior handball division at the Tucson Racquet Club All Sports Camp since the summer of 2013, teaching up to 50 lessons per week during the 10-week camp to more than 700 youngsters between the ages of 7-16. The youngsters are often provided with the choice of which sport to play, and invariably, the youngsters choose handball. The first-time and experienced campers are taught handball fundamentals and various drills and games to make each 45-minute lesson fun and rewarding. The youngsters also compete in various target-hitting contests and rallying games to introduce handball skills and competition.
Press Release from the Junior WPH TRC Handball Camp: here
Junior WPH Coaching 50 junior handball lessons per week at the TRC Summer Camp: here
Junior WPH at Tucson's Lohse YMCA: here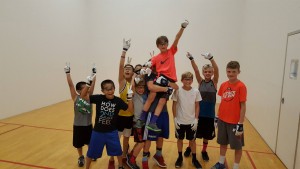 Junior WPH Kansas City: Junior WPH is pleased to announce the newest Junior WPH sponsored team, the Junior WPH Kansas City. Junior WPH KC features more than a dozen handball players between the ages of 5-14 learning from KCAC's WPH Coach Nick Scherzer and other KCAC volunteer WPH Coaches. The young handball players are generally separated into two groups, based on their ages, and taught the proper throwing and hitting motions. The older group transitioned quickly into rallying and playing points, while the younger group relished the opportunity to hit the ball and play cross-court two-bounce. "All of the kids loved playing and receiving and praise from the coaches," revealed Coach Scherzer. "The kids learned the side-arm stroke, the back wall shot, defensive shots, the "bowling alley" swing, the V-pass and handball strategy. Junior WPH KC will continue in 2016, with the next session starting in February. "It blows my mind how teachable juniors are in this sport," stated Coach Scherzer. "All of the kids listen so well and are eager to learn. All of the kids from the 2015 fall/winter session are registered for the 2016 winter/spring session and we're going to try to round up more."
Junior WPH KC: here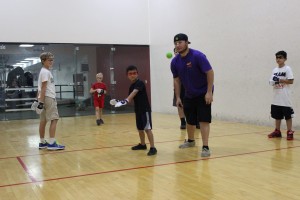 The Westside YMCA Harry Mellis Program Sponsored by the WPH: The World Players of Handball is thrilled to announce our partnership with New York City's Westside YMCA Harry Mellis Program. WPH Coach Daskalakis leads a group of more than 35 passionate junior handball players in twice-weekly handball clinics at the Westside YMCA teaching the fundamentals of the game, while emphasizing teamwork, independence, leadership, discipline, embracing diversity and developing a physically active lifestyle through handball. Coach Daskalakis is one of handball's greatest all-around players, role models and most highly respected coaches and the WPH is incredibly proud to be partnering with Ms. Daskalakis and her outstanding junior handball program at the Westside YMCA. The World Players of Handball Foundation enthusiastically approved a grant for the Westside YMCA Harry Mellis Program to provide the opportunities for more weekly junior clinics, junior handball equipment and tournament expenses. "The Westside YMCA Harry Mellis Program promotes diversity and togetherness and is so much fun to be a part of," stated Westside YMCA Harry Mellis Program player Karen Avila. "Thank you to Danielle to for all of her hard work in growing the Westside YMCA Harry Mellis program and to the WPH for their support in developing and furthering the handball careers of all of the players in the Westside YMCA Harry Mellis Program."
The World Players of Handball Foundation is a 501c3 that is able to host clinics and support junior handball teams and organizations through our generous donors and contributors. To see why you should consider donating to the World Players of Handball, click here
Junior WPH will continue to support Junior WPH Teams in 2016 by providing handball equipment, court time for clinics, travel and tournament expenses and other expenses related to running a junior handball program.
Please consider making a tax-deductible donation today and supporting the growth of the game. 100% of the donations received by the WPH go towards junior handball development and supporting Junior WPH sponsored programs and teams, Junior WPH clinics at tournaments, summer camps, athletic clubs, as well as providing junior handball equipment and opportunities for junior handball players to travel to tournaments.
Donate on-line at www.thehandballstore.com, send your generous gifts through PayPal (extremehandball@cs.com) or by mailing checks to:  WPH, 3561 E. Sunrise Dr. Suite 125, Tucson, AZ, 85718.
Stay tuned to wphlive.tv and juniorhandball.org for all of the exciting junior handball updates.
David Fink
WPH Youth Donor and Development Director