Tucson, AZ, WPH Press, 12/30/19- JR WPH concluded a tremendous year of junior handball coaching with junior handball clinics at the newly refurbished WPH Clark Park 3-Wall courts in Tucson. JR WPH coached 35 youngsters at the Randolph Center Winter Break Camp, spending mornings with the campers to introduce the fundamentals of 3-Wall handball. The campers were divided into groups of five on Clark Park's five courts, progressing from bouncing the ball and hitting to playing rally games.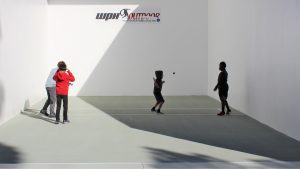 "When we had the vision to refurbish these courts, our goal was for these courts to be a junior handball headquarters in the Southwest," stated WPH Clark Park Coach and WPH Development Director David Fink. "Seeing all of these youngsters on the courts playing handball and having fun each day is so wonderful and inspiring and makes all of the hard work that went into this project so fulfilling."
JR WPH will continue to inspire youngsters at Clark Park in 2020, while also aiming to inspire junior handball players across the country by hosting clinics and tournaments. JR WPH proudly hosted hundreds junior handball clinics and tournaments in 2019.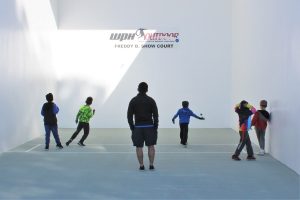 Come to Clark Park and experience the magic that the WPH and the Tucson handball community created at the greatest outdoor handball park in the world!
Enter the 2020 WPH Clark Park Classic HERE
Clark Park featured on Insane Makeover HERE
Clark Park named HERE
Clark Park Ribbon Cutting HERE
Keep an eye out on juniorhandball.org, as new clinic opportunities and recaps pop up weekly. Want to coach a clinic or a junior handball program? Need more information regarding junior handball? The Junior WPH group spans multiple countries, continents and oceans with clinics happening daily. We can help! Contact WPH Development Director David Fink at david.fink@wphlive.tv
To enable Junior WPH to continue to host junior handball clinics and tournaments across North America with Certified WPH Coaches, the World Players of Handball invites you to make a tax-deductible donation today in supporting the growth of the game. 100% of the donations received by the WPH go towards junior handball development. Donate on-line HERE or send your generous gifts through PayPal (HERE) or by mailing checks to: WPH, 3602 E Ft Lowell Rd, Tucson, AZ, 85716.
Become a handball insider by enjoying never before seen videos, pro commentary, special awards, Sports Casts archives and new episodes, live broadcasts, and much more by supporting the WPH and inspiring the next generation of players through the WPH Patreon program.
Become a WPH Patreon HERE
Follow all of the latest handball news from the WPH HERE
Follow all of the latest news from JR WPH HERE
2019/20 Race 4 Eight IX Schedule HERE