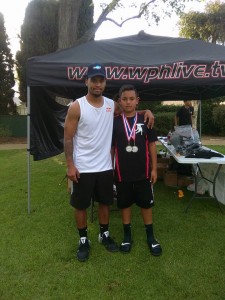 WPH Coach and 1-Wall Big Ball World #1 Timbo Gonzalez held a spectacular JR WPH 1-Wall clinic for 20 junior handball players in attendance at the WPH Outdoor V Stop #3 Downey 1-Wall. The youngsters were treated to lessons from the best player in 1-Wall handball and soaked up every piece of advice from the international superstar. Joining Timbo in the clinic was WPH Race 4 Eight Star and WPH Coach Mando Ortiz. Thank you Timbo and Mando!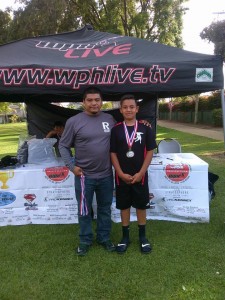 Following the JR WPH Clinic, more than two-dozen juniors competed in the second stop of the JR WPH Outdoor 2016 season at Downey Park, featuring 9, 12, 15, and 18-and under 1-Wall singles divisions. Xavier Flores continued to shine in the 9-and-under, as he collected his second title of the season in defeating Freddy Reyes, Jr, with Javier Valle and Arley Carmona finished third. Armando Ramirez captured his first title of the 2016 season in the 12-and-under, defeating Jordi Valle in the final. Jesus Mendez clinched his second title of the season in the 15-and-under, outlasting Danny Vazquez in the final, with Armando Ramirez taking third. Chava Dorado impressed in winning the 18-and-under, as he defeated Octavio Recendiz in the final, with Marco Ala torre finishing third.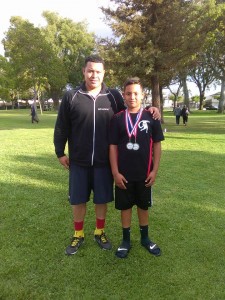 Congratulations to all of the juniors for their outstanding play and tremendous sportsmanship. Stay tuned for an exciting summer of JR WPH clinics and tournaments!
For the full recap from WPH Outdoor V Stop #3, click here>