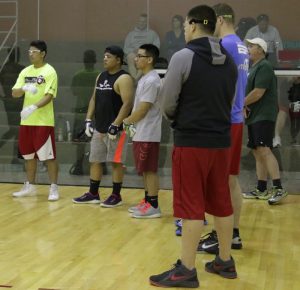 Juniorhandball.org reports- JR WPH was thrilled to host a junior clinic with the WPH sponsored JR WPH Park City junior handball program and a Junior R48 Showdown match at the 2016 R48 V Salt Lake City Aces.
The enthusiastic youngsters from the WPH sponsored Park City junior handball program were treated to sidearm stroke instruction, target-hitting competitions and cross-training exercises with R48 Elite 8 pros David Fink and Daniel Cordova. "These kids are like sponges to the game," revealed WPH Coach McManus. "We have a group text with more than 20 junior players during all of the R48 broadcasts and we are always sending messages back and forth about all of the incredible shots and matches during the great broadcasts." Thank you to WPH sponsored Park City JR program head coach Ted McManus, the juniors and the WPH pros.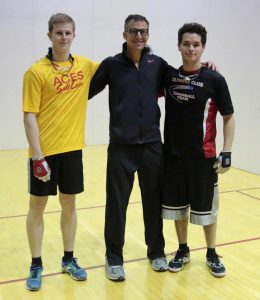 Just before the start of the main draw in Salt Lake City, the youngest qualifier hopefuls in R48 history squared off in a special Junior R48 Showdown match, with California's Anthony Sullivan and Canada's Michael Gaulton staging a sensational junior showdown at the final regular season event of the Race 4 Eight V tour. The pair of future R48 superstars traded the lead 15 times in the one game match to 25, with Gaulton rallying from a 20-24 deficit to take a 25-24 lead, only to see Sullivan score the final three points of the match to claim the showdown title, 27-25.
What an event for Junior WPH at the 2016 Salt Lake City Aces!