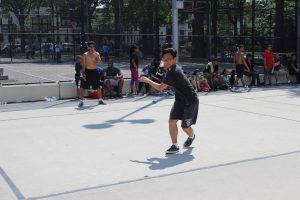 The World Players of Handball was thrilled to travel to New York City to host the JR WPH NYC 1-WallBall Junior Shootout, featuring more than 70 junior participants between the ages of 13-19 at Brooklyn's St. John's Park.
One of the warmest days of the year in New York City challenged the fitness of New York's top junior 1-Wall stars, with many of the youngsters competing in two divisions. The Memorial Day Weekend '16 junior shootout featured boy's 15-and-under singles and boy's and girl's 17-and-under, and 19-and-under singles brackets. 15-year-old Ray Lu showed his tremendous potential in advancing deep into the boy's 17-and-under and 19-and-under brackets, while cruising to the 15-and-under title. Westside YMCA's Dan Pitre dominated the deep 17-and-under field, while Juan "Chulo" Martinez, Jr. clinched the 19-and-under. Shkysi Cummings clinched the girl's 17-and-under while impressive wins, while Westside YMCA standout Melanie Garate was outstanding in winning the girl's 19-and-under.
WPH Coach Danielle Daskalakis and rising 1WallBall star and current "Queen of the Court" teamed to win the women's doubles exhibition against Karen Mcconney and Quasia Figueroa.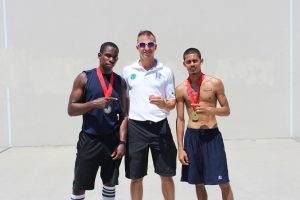 Boy's singles brackets
15-and-under champion/finalist: Ray Lu/Kevin Poon
17-and-under champion/finalist: Dan Pitre/Phillip Kang
19-and-under champion/finalist: Juan Martinez, Jr/Isaac Clovis
Girl's singles brackets
17-and-under champion: Shkysi Cummings
19-and-under champion: Melanie Garate
Thank you to JR WPH NYC 1WallBall Junior Shootout tournament directors David Fink, Danielle Daskalakis, Veronica Figueroa, Bryan Lucero and Stephen Cooney.
[acx_slideshow name="Junior WPH NY"]
"Junior WPH was so excited to be hosting an inspiring junior event in the 1-Wall handball capital of the world," stated WPH Development Director David Fink. "The sportsmanship and skill of all of the juniors was inspiring and we hope to be able to host more junior events in New York City in the future. Thank you to WPH Ambassador Veronica Figueroa, Bryan Lucero and WPH Race 4 Eight pros Stephen Cooney and Danielle Daskalakis for all of their volunteer efforts in organizing and running the event."
Contact the WPH for questions about starting a junior clinic in your area; details about pro player clinics and more!  info@wphlive.tv