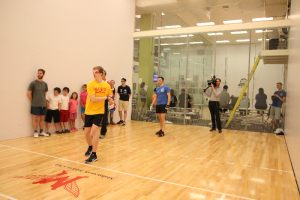 Junior handball players from Canada, Portland and the University of Texas were treated to a special Junior WPH clinic with the world's greatest handball player Paul Brady at the 2016 WPH Player's Championship. The awestruck junior players between the ages of 6-19 were treated to stroke, strategy and cross-training instruction from one of the greatest athletes to have ever lived. Following the instruction, each of the juniors played a point with the five-time world champion, with two of the older players winning the rally and a WPH prize.
"Having a chance to play a point with Paul Brady would be like playing Steph Curry in one-on-one or playing a hole with Tiger in his prime," stated WPH Development Director David Fink. "What a thrill for the juniors to be able to learn from Paul and a thrill for the WPH to provide the juniors with the opportunity."
"My daughter went to lacrosse practice after the clinic and could not wait to tell her teammates that she played handball with the world's best player," stated WPH Executive Board Member Steve Soto. "She had a great time and cannot wait to play again."
Thank you to all of the juniors for their enthusiasm, Paul Brady for coaching the clinic, and the World Players of Handball for providing the opportunity for youngsters to develop a passion for the game.
Keep an eye out on juniorhandball.org, as new clinic opportunities and recaps pop up weekly. Want to coach a clinic or a junior handball program? Need more information regarding junior handball? The Junior WPH group spans multiple countries, continents and oceans with clinics happening daily. We can help! Contact WPH Development Director David Fink at fink@race4eight.com
The World Players of Handball invites you to make a tax-deductible donation today in supporting the growth of the game. 100% of the donations received by the WPH go towards junior handball development.  Donate on-line here, or send your generous gifts through PayPal (extremehandball@cs.com) or by mailing checks to:  WPH, 3561 E. Sunrise Dr. Suite 125, Tucson, AZ, 85718.