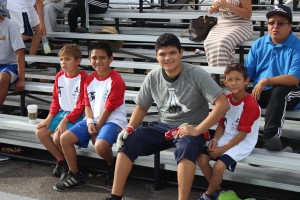 Junior WPH Juarez continues to be the busiest Junior WPH program in North America, as Head Coach Drft Fernandez organized a junior round robin event in Juarez last weekend on the heels of four major tournament trips. The junior round robin featured 12 junior handball players under the age of 18 competing in two divisions. Alejandro Garcia defeated Andres Cordoba to win the "A" bracket, while Roberto Galarza defeated Diego Arredondo to win the "Novice."
"We had all of our kids bring one friend that had never played before to play in the round robin," stated Coach Fernandez. "After each of the kids played three or more matches in the event, we had a fun party."
In the past four months, Junior WPH Juarez has traveled to the USHA Four Wall Nationals in Southern California, the Colorado State 3-Wall Championships, Junior WPH's Battle of the Border in Tucson, and the 3WallBall Championships in Las Vegas. Junior WPH Juarez will hit the road again next week for the Simple Green U.S. Open of Handball, followed by the Tucson R48 Memorial/Battle of the Border II two weeks after the Simple Green U.S. Open. Between the four team trips that have seen Team WPH Juarez log more than 8200 miles in the Team Juarez van, Junior WPH Juarez hosts weekly junior handball clinics for the more than 20 active junior players in the junior handball hotbed.
"Junior WPH Juarez is the model for junior handball programs in North America right now," stated WPH Youth Donor and Development Director David Fink. "Junior WPH Juarez has an incredibly dedicated coach in Drft Fernandez, kids that love to play handball, and a group of handball players in Juarez that help the juniors learn the game and travel to as many tournaments as possible. An enthusiastic coach, a supportive handball community, kids that love to play the game, and weekly clinics is the formula to building an outstanding junior program."
Do you want to start a junior program in your community? The World Players of Handball can help! The WPH can help to train junior coaches, provide equipment, help you market the program, and provide opportunities for juniors to compete in sanctioned junior tournaments. If you are interested, please contact David Fink at fink@juniorhandball.org.