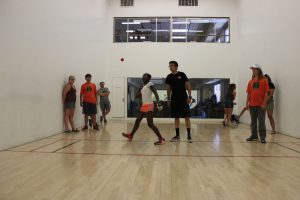 Tucson, AZ, WPH Press, 8/17/16- JR WPH was thrilled to wrap up our fourth consecutive summer of coaching handball at the Tucson Racquet Club All Sports Camp at the beginning of August. The Tucson Racquet Club All Sports Camp is the most highly regarded summer camp in the Southwest and JR WPH is proud to coach handball as one of the six daily sports throughout each camp day during the 10-week summer camp. WPH Certified Coaches David Fink and Luis Villegas led the daily clinics for more than 500 kids between the ages of 7-16 throughout the summer, emphasizing a physically active lifestyle, hand-eye coordination, teamwork, sportsmanship, camaraderie, and skill building through handball.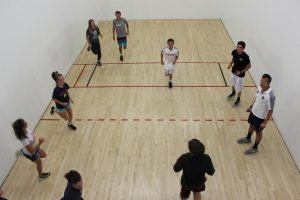 "The coaches are really excellent at engaging the kids and making the game fun, all while having an extremely organized and structured curriculum," stated Tucson Racquet Club All Sports camp director Sam Ciulla.
"In his first summer coaching handball, Coach Luis was really exceptional," stated Tucson Racquet Club All Sports court sports director Coach Anderson. "The kids really took to Luis and were always excited to play handball."
"In our four years at the camp, we've seen a lot of the campers for four summers and they enjoy handball more each summer," stated WPH Development Director David Fink. "We always love seeing the kids improving from one summer to the next, but most importantly, enjoying themselves and playing with a smile on their faces. We look forward to another great summer of coaching handball in 2017!"
Keep an eye out on juniorhandball.org, as new clinic opportunities and recaps pop up weekly. Want to coach a clinic or a junior handball program? Need more information regarding junior handball? The Junior WPH group spans multiple countries, continents and oceans with clinics happening daily. We can help! Contact WPH Development Director David Fink at fink@race4eight.com
To enable Junior WPH to continue to host junior handball clinics and tournaments across North America with Certified WPH Coaches, the World Players of Handball invites you to make a tax-deductible donation today in supporting the growth of the game. 100% of the donations received by the WPH go towards junior handball development.  Donate on-line here, or send your generous gifts through PayPal (extremehandball@cs.com) or by mailing checks to:  WPH, 3561 E. Sunrise Dr. Suite 125, Tucson, AZ, 85718.