The Southern California Handball Association proudly hosts the 67th USHA National Four-Wall Championships at Los Caballeros in Fountain Valley, CA.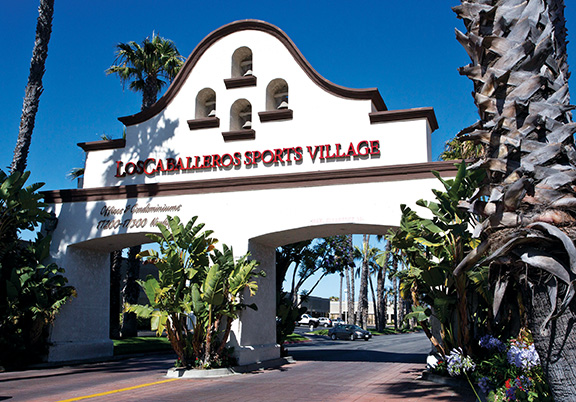 Los Cab is nestled in Orange County near popular tourist attractions with easy airport access. The gorgeous Southern California weather makes this Four-Wall Nationals an ideal family trip!
All SINGLES will start on Wednesday, June 28 (with the exception of Women's and Juniors events). DOUBLES will end on Sunday, July 2. With the condensed schedule, players should be prepared to play more than one match per day, especially if playing Singles and Doubles.
NEW Age-Level B Doubles! "We wanted to do it and do it for our members," said SCHA and USHA board member Rob Nichols. "We play mostly doubles around here, so we wanted to add the age-level B doubles events as well as dropdown events for doubles players."
Age-Level B Doubles will be offered in 40-plus, 50-plus, 60-plus and 70-plus divisions.
We're also excited to announce the return of Big Ball Open Doubles which drew big crowds and produced some incredible excitement the last time we were at LosCab in 2015.
Highlighting the event will be the Hall of Fame induction ceremony for Gary Cruz at Thursday Night's Banquet and Paul Brady's effort to tie the all-time record of 11 Open Singles titles in current record holder Naty Alvarado's backyard. Cruz has been the go-to guy for Southern California handball as well as a distinguished USHA Board Member. But his tremendous contributions to the development of youth handball have been even greater.
The Hall of Fame induction ceremony will be held at Los Cab on Thursday, June 29. The on-site banquet on Thursday gives you latitude in choosing your hotel. Two hotels are offer special rates for handball players and both are offering free Wi-Fi, parking, and buffet breakfasts AND transportation to and from Los Cab (arrange with hotel).
World Players of Handball (WPHLiveTV) will be streaming the action for WPH & USHA Members beginning Friday through Sunday.  Go to www.race4eight.com or USHandball.org for the daily schedules and log on information (to be posted the week of the event).  Filming courtesy of the USHA President's Club, USHA and WPH Board of Director's and Membership
The Holiday Inn Santa Ana-Orange County Airport, 2726 S. Grand Ave., Santa Ana (714) 481-6300, is also offering pick up from John Wayne Santa Ana Orange County Airport and rates of $114 on Thurs., Fri., and Sat and $129 on Tues. and Wed. for double/double rooms.
The Ayres Hotel Fountain Valley, 17550 Brookhurst St., Fountain Valley (714) 861-5170, is offering rates of $139 for King rooms with a pullout sofa and $159 for double/doubles. The Ayres is the closest hotel to the courts and offers the transportation to the club but you'll have to get there from the airport. This hotel has received great reviews for the Simple Green U.S. Open, and the slightly higher rates are due to the summer vacation season in Orange County.
Reserve by May 27 and mention the U.S. Handball Nationals in order to get the special rates.
Enter on-line:  http://www.r2sports.com/tourney/home.asp?TID=21556