10/24/16- JR WPH proudly hosted a Simple Green U.S. Open junior clinic for more than 50 youngsters from California and Ireland on the Los Caballeros' 3-Wall courts, featuring WPH Coaches David Fink, Shorty Ruiz, and Luis Cordova. The youngsters were split into three groups, with each group having the opportunity to learn from three of the game's top coaches. After trying to hit various targets, the young handballers had a chance to test their skills against Coach Ruiz and Coach Cordova. "I can't believe how good these kids are," proclaimed Coach Cordova after playing points against the 14-year olds on his court.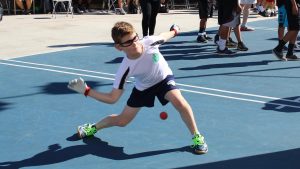 Junior WPH has hosted more than 900 clinics thus far in 2016, proudly providing opportunities for more than 3,000 young people to learn handball from the best coaches in the most well organized clinics in the country.
Following the clinic, the juniors competed in the final JR WPH ranking event of the season on Los Caballeros' 3-Wall courts. The matches featured sensational shot making and sportsmanship from precocious juniors from California and Ireland. Ireland's Kyle Jordan and Mark Doyle captured the 11-and-under and 13-and-under singles, respectively, in their first 3-Wall starts, cruising in fields of seasoned 3-Wall juniors. Multiple-time JR WPH junior champion Daniel Vazquez won the 15-and-under and Anthony Perez defeated his brother Justin in the final of the 17-and-under singles. "This was certainly one of the most exciting days of the JR WPH season," stated WPH Development Director David Fink. "The participation of the Irish junior stars playing against the Southern Californians made for great matchups, while also creating new friendships that will likely last a lifetime."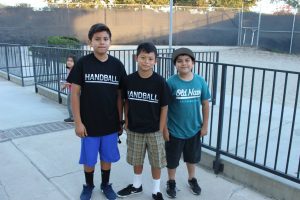 JR WPH Simple Green U.S. Open Results
11-and-under
1st: Kyle Jordan (IRE)
2nd: Isaac Camarera (CA)
tied 3rd: Jose Arellano (CA)/Jayden Moyas (CA)
13-and-under
1st: Mark Doyle (IRE)
2nd: Mark Claros (IRE)
tied 3rd: Eddie Rocha (CA)/Kevin Quiroa (CA)
15-and-under
1st: Daniel Vazquez (CA)
2nd: Josh Kavanag (CA)
3rd: Mauricio Molina
17-and-under
1st: Anthony Perez (CA)
2nd: Justin Perez (CA)
3rd: Danny Vazquez (CA)/Ricky Serrano (CA)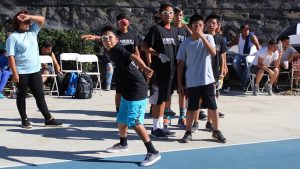 Keep an eye out on juniorhandball.org, as new clinic opportunities and recaps pop up weekly. Want to coach a clinic or a junior handball program? Need more information regarding junior handball? The Junior WPH group spans multiple countries, continents and oceans with clinics happening daily. We can help! Contact WPH Development Director David Fink at fink@race4eight.com
To enable Junior WPH to continue to host junior handball clinics and tournaments across North America with Certified WPH Coaches, the World Players of Handball invites you to make a tax-deductible donation today in supporting the growth of the game. 100% of the donations received by the WPH go towards junior handball development.  Donate on-line here, or send your generous gifts through PayPal (extremehandball@cs.com) or by mailing checks to:  WPH, 3561 E. Sunrise Dr. Suite 125, Tucson, AZ, 85718.